News Release:
Date: December 14, 2011
Occupy Boulder City, Nevada!
Boulder City , Nevada will be rolling out the dirt carpet welcoming gravity mountain bike racers from all over for this Presidents Day weekend " Reaper Madness DH & SD " at the infamous Bootleg Canyon Mountain Bike Park .
The official website has been updated with links to local motels , hotels and restaurants all offering discounts to Reaper Madness participants and spectators.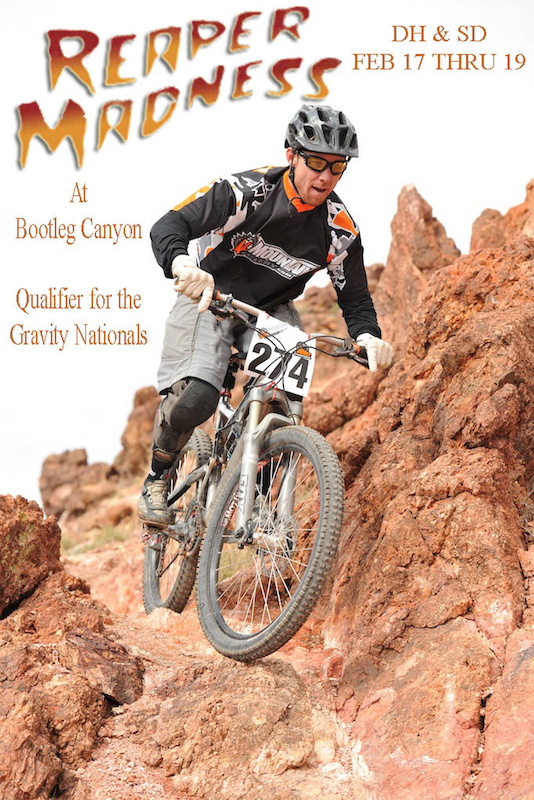 Event sponsors now include: Whiteface Mountain Bike Park, Morewood Bikes, iSX Sports Division, Novatec Wheels, Go-Ride.com, Bike Fettish, HT Pedals, One Ghost Industries, Black Rock Bicycles, High Peaks Cyclery, Gizmo Performance Socks, Gnar Gnar Tours and All Mountain Cyclery.
Online registration pricing is as follows:
December cost is $80.00 for 1 race or $125.00 for both, and will increase by $5.00 each month until on- line registration closes on February 12. On-site registration will cost $100.00 for 1 race or $150.00 for both races. Save up to $25.00 by registering early!
* Registration includes Saturday and Sunday shuttles.
* Free event t-shirt for the 1st 100 registrants!
A special thanks to the Boulder City Parks and Recreation Department!
www.downhillmike.com
for pictures, videos, course maps and how to save up to $25.00 on registering online.