No advil, jet skis, or gay little dune buggies to help me either. Which sucks because I could really go for some advil right about now. I'm one week and 500 km's into the trip and I'm in some pain but my legs are still working well and I'm feeling strong.
I'm in Xintai.
http://maps.google.com.hk/maps?hl=en...nt=3,0x0:0x0,1
It sucks here but I've been loving every minute of it. You guys wouldn't believe some of the shit I've seen.
Little bit from my log:
(I say log because I'm writing everything down in a notebook with a pen.)
Quote:
.....up until now my surroundings had been quite nice. Clean smooth roads, reasonable air quality (for China) and fairly quiet but it quickly changed into an industrial hellworld the likes of which I have never seen. On the side of the road people were working with metal, using primitive ovens and torches. Above the ovens were short smokestacks belching black smoke that was quickly driven down by the wind to ground level. Multitudes of decrepit repair shops as well surrounded by stacks of rusty scrap metal and partially disassembled vehicles. I saw a mechanic pull some kind of part off from under a truck and watch as the oil spilled out and streamed down into the road. Trucks were everywhere and they came in every size. At one intersection they were jammed up so bad I was literaly rubbing elbows with semis on either side of me to get past. At regular intervals there were piles of garbage on the side of the road. Each pile was about the size of a car. Each pile was also on fire. My lungs were protected thanks to my highly advanced-athletic-air-filtration mask. My eyes had no such protection other than a pair of cheap sunglasses and they burned and watered from the filth, dust and smoke. Further to the east and west I could make out the outlines of elctricity generating coal plants and much heavier industry. Every so often drops of oil falling from the air would land on me, ruining my t-shirt and mixing with my sweat to form a kind of brown grease...
Only picture of me you guys will ever see: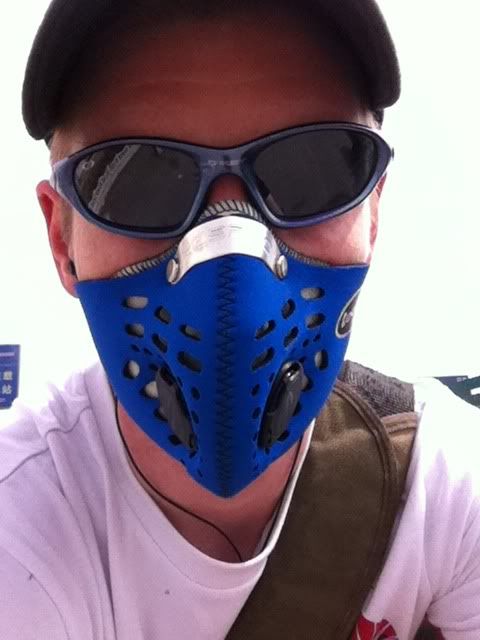 Big ups to Respro
http://www.respro.com/products/indus...t/techno_mask/
Water stop: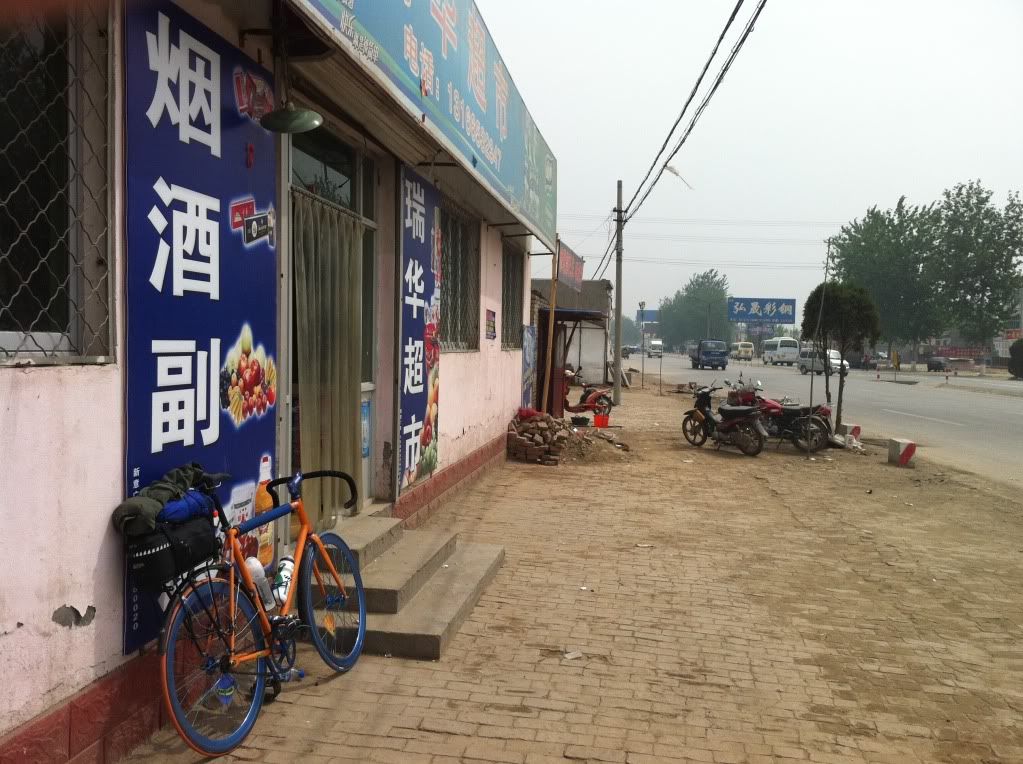 Burning garbage... This pic was taken around 1030 am too.
Think of this as an "evidence" picture...106 national road is what I was riding on and this stone marks the 248th kilometer from Beijing. Every 100 metres there's a smaller stone.
Out there...
Woohoo! Crazy tailwind!
Even further out there...
Rep for anyone that knows why this 5rmb note is so interesting..
Hope I can update you guys again next week!