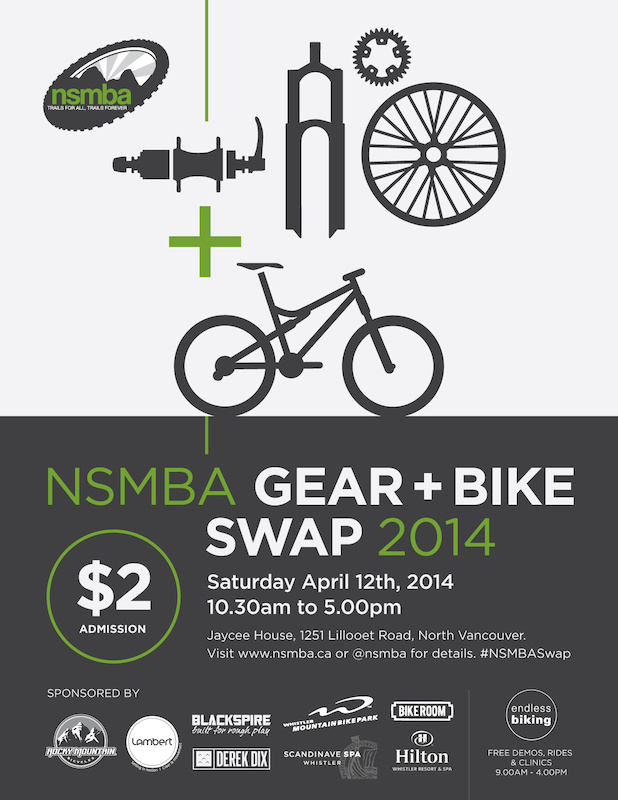 2014 NSMBA Bike + Gear Swap
The North Shore Mountain Bike Association is proud to present the 2014 Annual NSMBA Bike + Gear Swap on Saturday April 12th, 2014 at Jaycee House, located at 1251 Lilloett Road in North Vancouver.
Come for the swap, stay for the day! Our friends at
Endless Biking
are having an
open house
with free biking clinics and demos, just down the street; they'll teach you how to ride like a pro.
Shoppers
The Swap will be held on Saturday, April 12th at Jaycee House - 1251 Lilloett Rd.
Free with 2014 NSMBA Membership: Member pre-shopping starts at 9:45
General Admission: $2 from 10:30AM to 5PM.
Payment: We accept cash, Visa, MasterCard and debit.
Sellers
Drop off your items April 9th, 10th and 11th between 7PM and 10PM at Jaycee House.
Drop off cost: $2 per item
Selling fee: 15% from the proceeds of each item sold, up to $120 per item. The fee includes all credit card transaction and admin fees.
Discounts: Available to high volume sellers.
Collection: Collect cash and unsold items as of 5:30PM on April 12th at Jaycee House
About the NSMBA
To volunteer for the event contact
Rachid@NSMBA.ca
and learn more about the NSMBA at
www.nsmbA.ca/swap