Quote:
Originally Posted by
hypa
Agreed.
There have been a number of slams myself or friends have taken with safety gear, and walked away with a sore arm and sore ego. But I think of the slam I took on Dirt Merchant a few weeks ago, and if I wasn't wearing elbows and my Leatt, I could be eating solids from a straw right now.

After dropping one of our crew off at the Medical ctr yesterday, I was questioning why anyone here would ever bitch about "making it more gnar, dawg". Go ride the fucking Chief if you want gnar. Or maybe apply spikes to the headtube for some real danger.
I went into the clinic there a couple years ago to get my finger stitched up: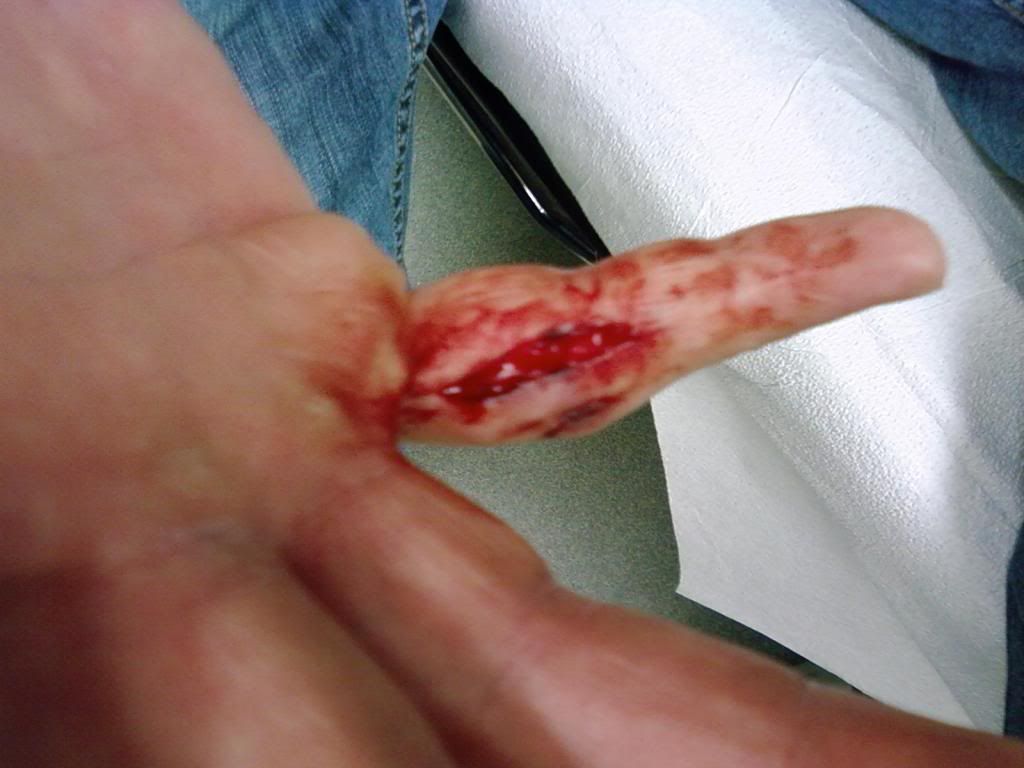 This was after a high speed sent me into a rock face (finger got pinched between the
bar and the rock and got split open like a grape being squeezed...not torn), then I got
bounced off the rock face and flung end over with my bike where I came to a sudden stop
when I flew into a ditch and hit the opposite facing bank. While I wasn't able to ride
the park after that due to the location of the stitches, I was fine with no scratches
or cuts and very little bruising (hips took a bit of a beating though).
In the room next to me a girl came in after sliding out on the shale section of Aline
and was getting drainage tubes inserted into her elbows and knees. She had major road
rash
top to bottom and was moaning in pain the whole time. While my body armor may or may
not have prevented a bone from breaking, it sure as hell did stop me from getting a
bunch of tubes in my body to drain the liquid. When I look at the jersey I was wearing
and the plastic on my helmet, elbow, shoulder, forearm and knee it was all gouged to hell
and I'm sure my skin would have looked way worse.
I used to downhill skateboard when I was young and got over 50 mph once all without anything.
Bare feet, shirt tided around my waste, and slippas on my hands, with my long hair the
only padding on my head. I was also very lucky I got away with only a couple broken ribs
a broken nose and a shit load of road rash over the years.
If WBP sees a big enough risk for people without compared to people with body armor, you
may see mandatory protection like you see mandatory helmets.